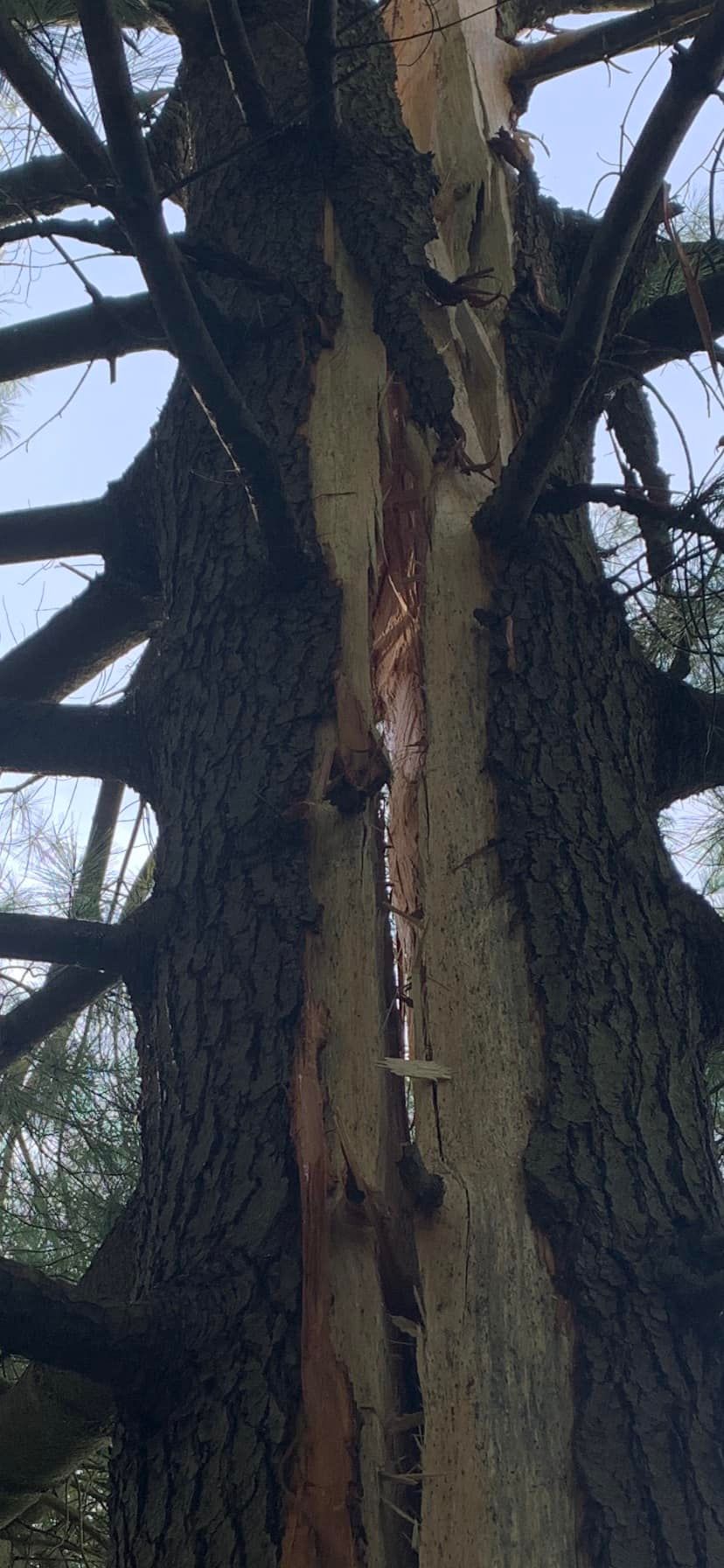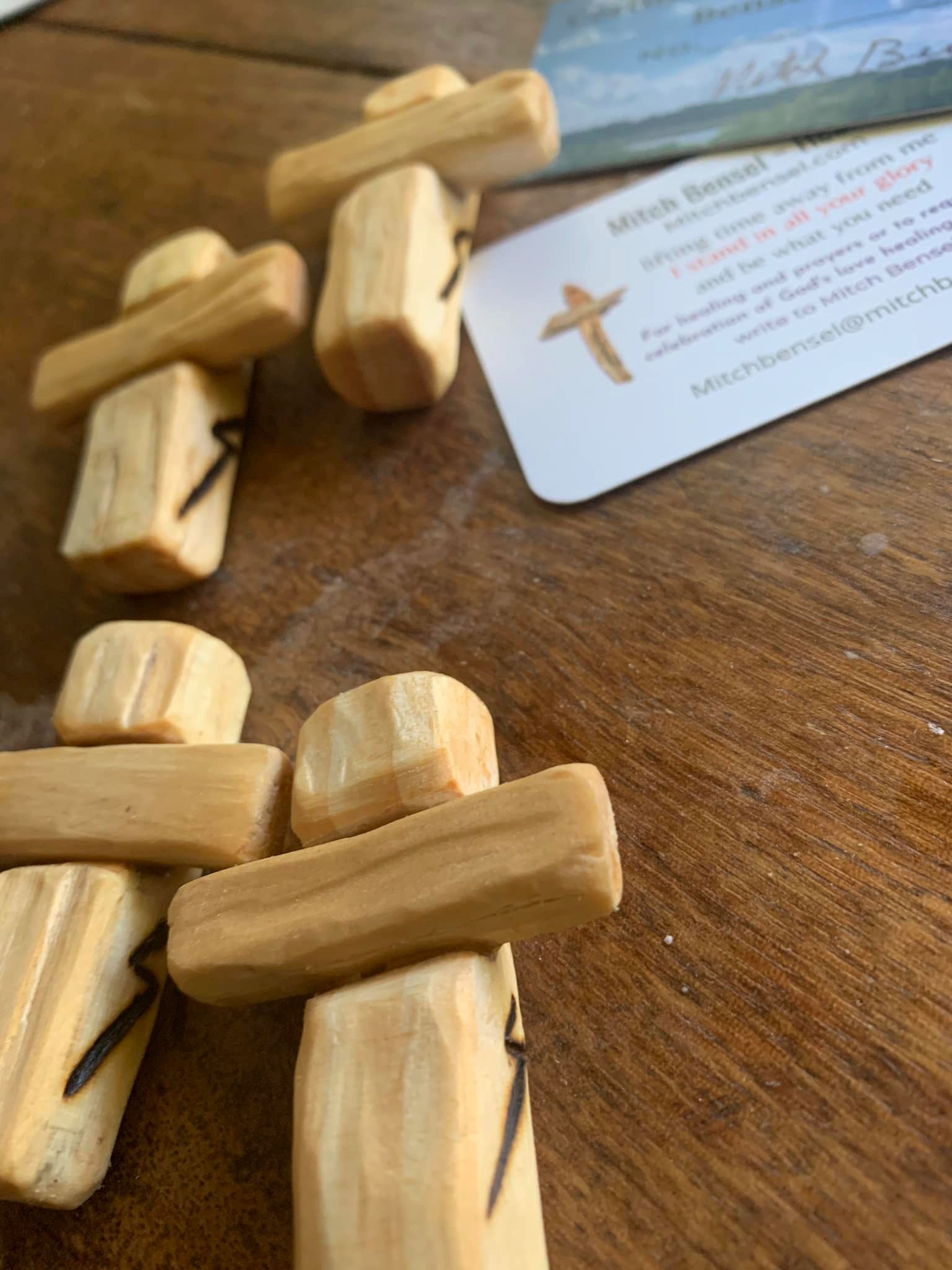 Recently a friend's white pine tree was hit by lightning. It wasn't a normal hit, according to four tree removal experts. They had never seen a tree split down the middle like that almost all the way to the base of the tree. The lightning, at 50 thousand degrees turned the sap into steam and the tree exploded in half. White pine trees are very full of sap and takes years for them to sit and dry enough for good firewood. They stated it was bone dry. The parts that the lightning hit, bone dry.
I collected some of this wood and planned on making a lot of the Bensel Crosses for walls from it.  Feeling it was so cool that God touched it with His power. But what is happening is not to make all of it wall crosses but to make some pocket crosses and clergy or wearable crosses also.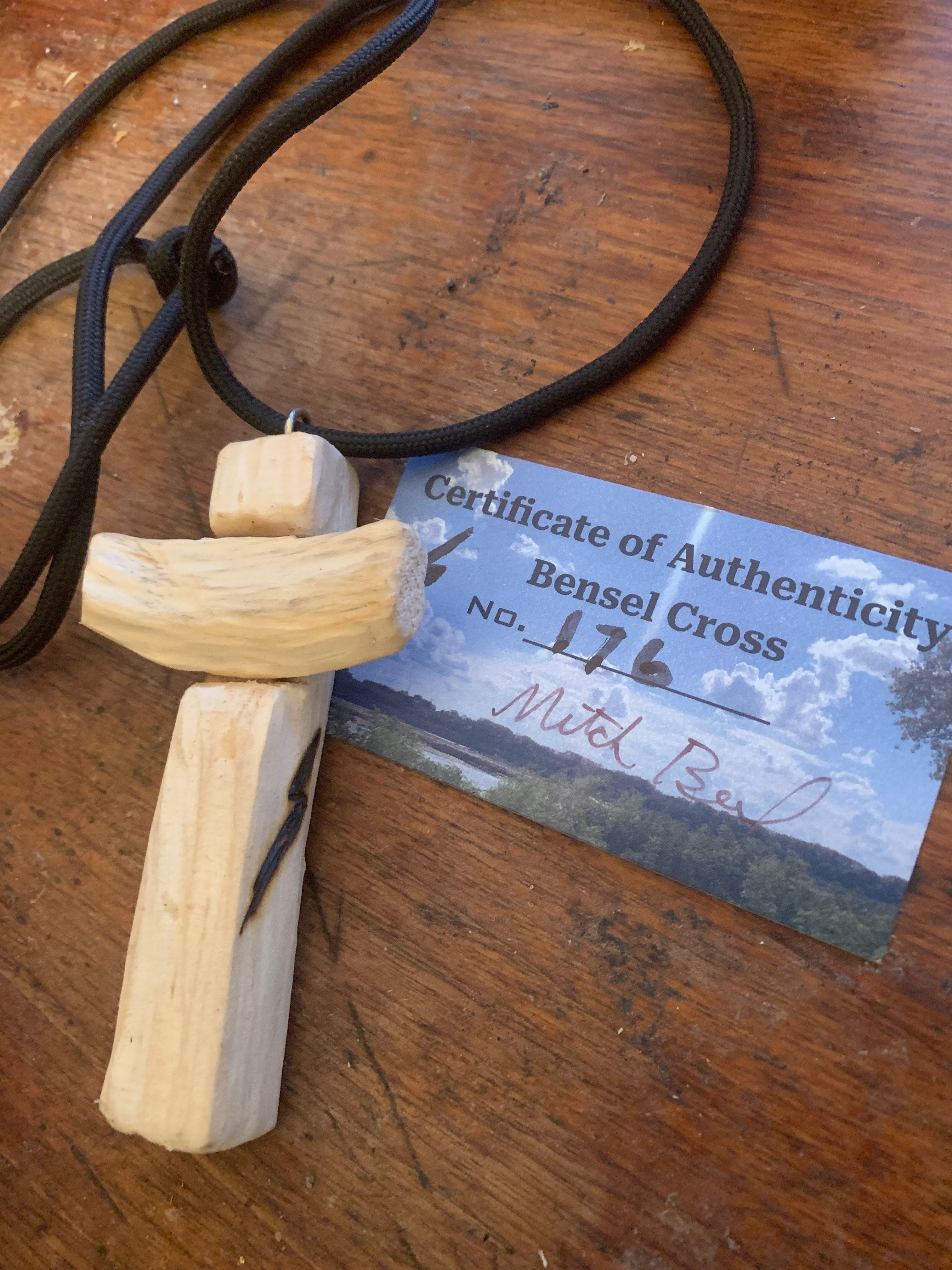 This wood needs to be held or worn. The blessings from this lightning touched wood. Wood that God showed His presence upon, will be amazing and phenomenal. Will also be making small ones for your pet! The cross is a symbol of God's love for us. And when someone sees a cross they think of Jesus! Your pet could use the blessings also. : )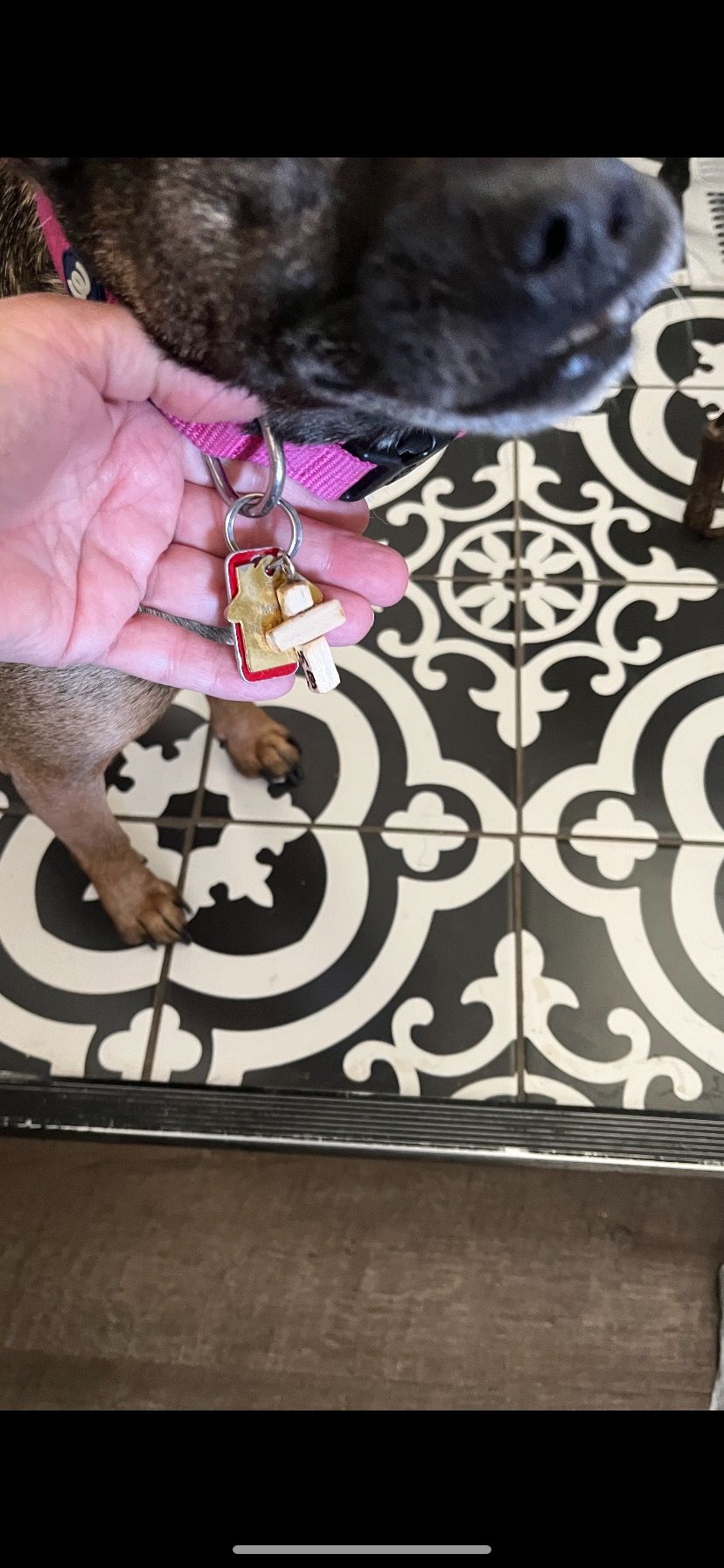 As I make them I also feel and am shown the blessings upon them. The feeling, the tangible expression of the Holy Spirit is with me as I form these wee crosses. When held, they feel amazing, calmness fills and a peace that can only come from the Holy Spirit finds the soul.
Let's think about this for a moment, Lighting and God.  Lightning is used all through the bible as God announces His majestic presence for all to see ~~through and with lightning!
On the morning of the third day there was thunder and lightning, with a thick cloud over the mountain, and a very loud trumpet blast. Everyone in the camp trembled. 
Exodus 19:16
Lightning symbolizes several different things in the Bible. It can signify God's mighty presence – in a literal and / or poetic sense – that causes all people to tremble in reverence
Psalm 77:18). It also means God's wrathful judgment against His enemies (Psalm 144:6; Psalm 18:14). Satan also fell "like lightning from heaven" (Luke 10:18), showing God's swift decree against him. Lightning will also be a sudden sign of Jesus' second coming, seen by all (Matthew 24:27).
God is perfect love and goodness; our heavenly Father who gives us the treasures of His mercy and grace. 
However, at the same time, we must also remember that God is the righteous judge of all things (Psalm 7:11; Psalm 50:6). He is the supreme ruler over everything! 
Thus, there are indeed Biblical moments where God uses lightning – literal and / or symbolic – as a sign of His wrath. In these instances, lightning is often described as weapons that God uses against His enemies. 
Out of the brightness of His presence bolts of lightning blazed forth. The Lord thundered from heaven; the voice of the Most High resounded. He shot His arrows and scattered the enemy, with great bolts of lightning He routed them. 
2 Samuel 22:13-15 
Send forth lightning and scatter the enemy; shoot Your arrows and rout them. 
Psalm 144:6 
And you, son of man, prophesy and say, 'This is what the Sovereign Lord says about the Ammonites and their insults: "'A sword, a sword, drawn for the slaughter, polished to consume and to flash like lightning! 
Ezekiel 21:28 
lightning in the Bible not only means God's presence, but can also reflect His firm judgment against those who willfully rebel against His kingdom.
lightning is used to convey God's swift, powerful, and visible judgment against Satan's rebellion in heaven. In addition, Jesus – in declaring his witnessing of Satan's fall – is also revealing his divine pre-existence outside of his time on earth. 
 lightning in the Bible often means God's judgment – most famously of all, His decree against Lucifer.
Jesus simply replies "I saw Satan fall like lightning from heaven" (Luke 10:18)
There are various explanations as to why Jesus used this exact phrasing. 
However, in this context, lightning is used to convey God's swift, powerful, and visible judgment against Satan's rebellion in heaven. In addition, Jesus – in declaring his witnessing of Satan's fall – is also revealing his divine pre-existence outside of his time on earth. 
For as lightning that comes from the east is visible even in the west, so will be the coming of the Son of Man. 
Matthew 24:27 
 God uses the quality of lightning to indicate the suddenness of Jesus' impending return. Of course, there will be warning signs, like how forming thunderstorms can be observed. However, it will still happen at an unexpected moment, just as lightning strikes out of nowhere. 
This reminds us to always stand firm in our faith. For "not even the angels in heaven, nor the Son, but only the Father" (Matthew 24:36) knows when and how Jesus will come. 
But one thing is for certain. It will happen as quick as lightning, seen by everyone – as God says it will!  
Job 37:4 
After it his voice roars; he thunders with his majestic voice, and he does not restrain the lightnings when his voice is heard.
Google for yourself how many times Lightning is used in the bible and how it is always connected to the presence of or wrath from God. I make driftwood crosses and always ask God to bless them with what the home needs. I am shown the home where it will be, I am shown what the family needs. Sometimes I am shown a person looking at the cross and see the miracle of the Holy Spirit calming them and helping them with the prayer they asked as they looked upon the driftwood cross.
I am a healer for God, I work for the Big Guy, He works through me.. and I tell ya this lightning wood is special. God's presented it to my soul to create crosses that people can hold. They can feel where God touched it! Lightning is God's presence, yes I am repeating myself. And this tree was hit like no other that had been witnessed by at least 4 tree removal experts. And, it hit the tree of Irene Baron's house, who has witnessed many miracles through healings and also has been healed  and is my close friend. It HIT her tree so I could make these pocket crosses for people to feel the presence/ that word again/ the PRESENCE of God, in a tangible way. We feel the Holy Spirit, hold it as we walk through our day. Not only a  reminder of His love I feel there will be healings and spirit awakening in all that order one with faith in our Lord. 
I know I have to make a lot of them. Is a constant gentle urge and I see piles of pocket crosses and clergy crosses and crosses from this wood being worn around the necks of not only people but their pets! I have a couple that will be wall crosses but the rest will be small. This symbol of God's love, the cross, causes us to think of Him. With this lightning wood doubly blessed by the literal TOUCH from God in the tangible way of lightning, many will feel such peace through their day.
I will leave you with this thought. The world is going through a turning point where a chasm is forming between right and wrong. God is showing His presence more than ever. Many many many.. are turning to and reaching for God. The same amount are turning away for the world things of greed and pleasure and to hurt others. God answers our prayers, He does not lie
Matthew 7:7-8 
King James Version 
7 Ask, and it shall be given you; seek, and ye shall find; knock, and it shall be opened unto you: 
8 For every one that asketh receiveth; and he that seeketh findeth; and to him that knocketh it shall be opened.
All believers are keeping God in front of all they do, praying, reaching to let others see and feel His love His peace. Turmoil is occurring, families being separated.  I feel and am shown these simple pieces of wood from a tree God touched, will help all with the feeling of His presence and to be closer to Him and also am shown healings will occur. God's will, God's timing always. When we reach with faith HE answers.
God split that tree with His presence, His lightning which represents HIM! And to repeat myself.. none of the four tree removal experts had seen a tree split like that and the wood left bone dry. Why dry? So I can make pocket cross and crosses for people to have near them filled with the Holy Spirit tangibly expressed by God's Lightning strike in a way never seen.
I will be posting them on this site but please reach out to me for the size you wish and I will make it so. I will ask God to bless it even more and boy I tell ya, as I have made the few the Holy Spirit is there with love that only God can give.
God bless all that read this
Mitch
write to me here or click on the links to my social media and private message me!