HOW GOD TOLD ME I WAS A HEALER
as told to Irene Baron
On 19 November 2021, this true story was told to Irene Baron by Mitch Bensel. "As soon as I begin the prayer for healing, I am shown light moving within their body. The brighter the light in any part of their body, the more intense is the healing taking place."
The  healing light from God has created numerous miracles internationally for over 20 years. 
"I was on an Oregon beach with a friend who doesn't share her rocks or any treasures she finds. They are hers.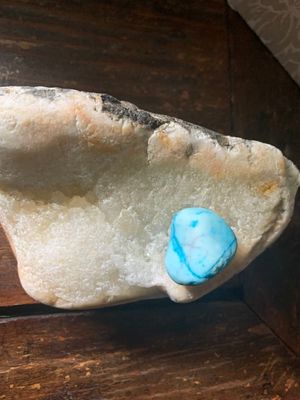 As I was walking, I decided to ask God if I was really a healer because of the many miracles where people were healed in my life.  I thought it was prayer that did it. I had been looking for rocks. The beach had many small ones scattered in the sand. So, while I was walking on the beach, I said, "Okay, God, if I'm a healer for you, I want to find a really big agate!." 
Immediately, my friend reached toward me with a big rock. She lowered her head as though she was bowing, looking down to her feet. She extended her arm straight out to me with the rock in her hand and said, "This is yours." 
It was a big geode with massive white quartz crystals throughout the center area. Not an agate, but still the largest cool rock on the beach! 
  She said, again, "This is yours." 
  I took the rock from her and was skeptical. Coincidence possibly? So I asked again,  "Okay, God,  if I'm a healer, I want to find a blue rock with an "X"  on it. Knowing it wouldn't happen, there were no blue rocks on this beach. 
God answered me. A foot in front of me was a small blue rock, I picked it up and there was a grey X on it. I was shocked. Those were two signs from God. 
The next day I was walking alone on the beach about 300 feet from the ocean. I turned around to walk back and there was a seal that wasn't there a minute before.  It had brilliant blue eyes with a grey-black "X" between its eyes. I could feel vibrant energy coming off this seal. It was a joyous euphoric energy coming toward me.  I thought God was wanting me to heal it or something. I didn't know what to do and the energy was overwhelmingly wonderful.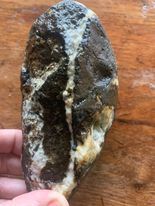 I prayed over the seal and said, "I hope you feel better, but I'm not touching you." I walked away talking to God all the time.  I took about eight steps and turned around to go back to the seal, but it was gone. There were no tracks of it going to the ocean. There was no way it could have gone all that distance back to  the ocean without me seeing it.  It just vanished, leaving me with a feeling of euphoria and great energy.  I don't think seals have blue eyes. I realized God was telling me I was a healer. 
First was the big rock I asked for, the blue rock with an "X," and then the seal with overwhelming beautiful energy coming from it, with an X between its eyes. The blue eyes had looked right at me. With the energy around it and all it encompassed, the air was alive. I knew as I walked that God showed me three signs to answer my question of me being a healer. 'I gotta' do this. God wants me to do this.' 
That is the story of the rocks and when I questioned God as to whether I was  a healer for Him or not."
________________________
Irene Baron said this information about Mitch Bensel is fulfillment of the Revelation 2:17 prophecy. 
"Being given a white stone by God along with the unique gift of healing unlike any other on Earth as we know gives him a new name. "No man knoweth saving he that receiveth it" is the prophecy in The Bible's book of  Revelation 2:17  This correlation to the Revelation prophecy is discussed in her blog at: 
irenebaron.com/irene-baron-blog/blog.end-times-signs-part-i  
________________________