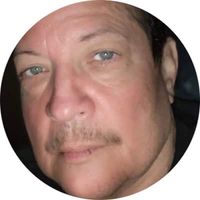 met some wonderful people the past few days while traveling. Gathered with a group of the 'originals' where people were healed by listening to the three healings on my Mitch Bensel you tube and on this site! God's love is always with and around and within us. Wherever you go bring God with you. Jesus's love is beyond any pain, anxiety, sadness. Talk to Him every moment :: feel Him close and know you are ok!
Mitch Bensel is a healing minister, poet, narrator and international best selling author. Many have been healed and helped through his life with prayer and healing for over twenty years. Of course God does it all.  It is all God's will and God's timing. To God be the glory with all healings, always in the mighty name of Jesus!
There are times Mitch gives a message to someone from God. This is all done In Jesus name, with the Holy Spirit!  Physical and spiritual awareness and growth is easily accomplished with the Holy Spirit!  
Awaken your spirit ! Lift your love to our Lord Jesus Christ!  Write to Mitch and get your blessings on!
 Listen to the Three healings, the healing prayers audio! miracles have occurred! 
An instantaneous miracle occurred! Brittany a young worker at a store was healed of her asthma within a few seconds of the sending of the Holy Spirit! Read on the 'Miracles' page!
Through my day when I see someone in pain or struggling, I always ask the Father in Jesus name and send a prayer of healing to them. Many times when asked to pray for someone I begin and literally feel the Holy Spirit leave from me to them. We should always try to help or be kind to all we come across in our day. That wee bit of kindness sprinkles a bit of God's love into them and is also worshipping God! 
Invite me to your church, your synagogue, your business! your Hospital, your homes! Let the Holy Spirit bless you with peace and with His healing and relief from chronic pain. Or just email me, mitchbensel@mitchbensel.com ~ I will ask God through Jesus immediately for healing to be sent your way. 
Video introduction to Healing Event
Irene Baron's Miraculous healing testimonial
                    Lifting time away from me ...    
                          I STAND WITH ALL YOUR GLORY 
                                                       And be what you need ...
EVENTS
Mitch Bensel's Celebration of God's Love healing services are free to all. 
Any church, synagogue, or community organization that wishes to  request Mr. Bensel for a Celebration of God's Love healing service, please make your request using the contact information at the bottom of this page or email him at mitchbensel@mitchbensel.com. The normal service may last about an hour. A short healing can take place after the normal church service and take about 20-minutes. There is no charge for healing presentations except for small expense, travel etc. The celebration of God's Love healing service will always have the three healings and blessings for the group or location.
If you would like Mitch to appear at the end of your celebration, your mass, your services for the glory of God.. drop an email or call and Mitch will be there! Call and leave a message, ask for a prayer.. ask to talk with Mitch and he will call you back. 24/7............ 502-641-2046.