The Bensel Vision from God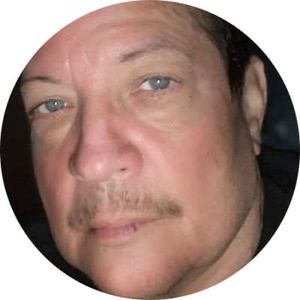 Mitch Bensel received a vision while asleep on 22 October 2021. I prayed hard before sleeping,  had a very troubled day. No matter your level of spirituality with God or your path, life is still life and must always call on God.
Jesus first showed me words, being written across a dark wall. The first letter was a capital I, done in cursive writing. I was asleep and eyes were closed. I complimented Him on the first sentences that were shown to me in big beautiful white lettering moving across my vision as my eyes were closed. "That's really good God." I said and heard myself say it although eyes closed and asleep. 
More words came to me but not written onto anything I heard them. "That's good too God." I calmly said, in my sleep. I was told, in a knowing way, "write them down." I rolled over to my phone on the table next to my bed, opened up the memo part and began speaking. "I'm reading but there are no words." I would lie back to sleep and He would literally roll me back to the phone. 
I remembered speaking but not what I was saying. I would roll back to sleep again and He would tell me again, "write it down." I was moved at times and rolled over to the table where my phone was. I clicked memo and would audio record. I did not know what I was saying, I was asleep. 
 I remember at the end of the words, I remember saying them then clicking the audio again on memo. Then He let me sleep. When I woke in the morning at first I didn't remember any of it. Then I thought "didn't I record something?" Sure enough my memo was full and all the words were laid out appropriately on the memo section of my phone.
 The original memo that was recorded at the bottom of the page and has added screen shots of the memo on phone. Those that use that function KNOW  you have to type in an exclamation mark! look at the original and see Jesus did all of that.

 After he read the memo I called Irene Baron who had been documenting healing events in his life. She was sent the memo and transcribed it as appears below.  I recorded the verse on YouTube.  Listen to it at https://www.youtube.com/watch?v=nHHTz_nBDY4  
I felt as I read them that God wanted a song. But I am not a songwriter. I have reached out to a few writers of music but no response. Recently Irene talked to the pianist at her church and we will see what happens! He is talented a songwriter and a strong Christian. Let's pray God gets His song!
______________________________________________
I'm Reading But There's No Words
I'm reading but there's no words
I'm walking but I have no feet 
Your love.. 
God 
Is what I need 
I hear but I have no ears 
My soul is where you're sleeping 
Your love is my spirit singing 
I'm alone yet full of life 
Together with only your whisper 
Can I read with eyes that see 
Can I walk with your lift of me 
My voice has no strength 
Unless your words I speak
I have been raised 
Into your arms God! 
I have been held with love complete 
I don't know Lord 
Why you came to me 
I was sleeping in the devils home 
I was shattered with a heart of stone 
 
You heard my voice 
Although it's nothing
You held me hard 
With all my filth 
You found me needing 
I was just a speck 
my souls edge 
You brought to life!  
You do so much for me 
So little I do for you 
Show me how to see the words Lord! 
Help me walk with feet of knowledge 
With only you can I be complete! 
Lord 
Lifting time away from me 
I stand with all your glory 
And be 
What you need .. 
Your desires are the Fathers
Only His way 
Is the way 
Because we listen to such small
minds closed in by evil has 
no rhyme 
You called my name you made my soul
you gave me life
you with me so
I'm sleepy my Lord please come to
me and move this weight of the
oceans upon my soul upon my heart
saw the laughs when we are apart
grab me now I'm out of here I am
lost and some Murky smear 
 
these are screen shots of exactly how it appears in my phone. Remember, I was asleep and just hit the mic button on the memo part of the phone. I did not space or change or make bold or cause the breaks to be there. It should have just picked up at the last of the last sentence. But no, it was spaced. how does a memo drop an exclamation mark in there? I just noticed that. you would have to say "exclamation mark"..!! ..
 Jesus did this.. while I was half asleep He kept me awake enough to see in my mind then roll over and hit memo pad image and hit mic image I remember that. The words garbled out of my sleeping mouth. I tell you I did not know what I was saying. I would lie back after a verse and would be nudged... I would compliment Him "That is really cool God." Then would hear.. "write it down" and would roll over and speak more words. 
The only words I remember recording is when how tired I felt at the end and I can remember saying please remove this weight.. for those were the original prayers I said as I fell asleep. All of the nudging to write it down, caused me to wake up some. Enough for me to remember praying before rest and feeling that weight of the oceans upon my soul. I was begging Him for help with a lot going on.. Read the words    they are for all of us.....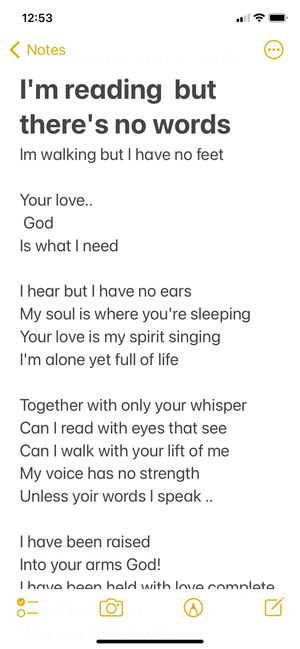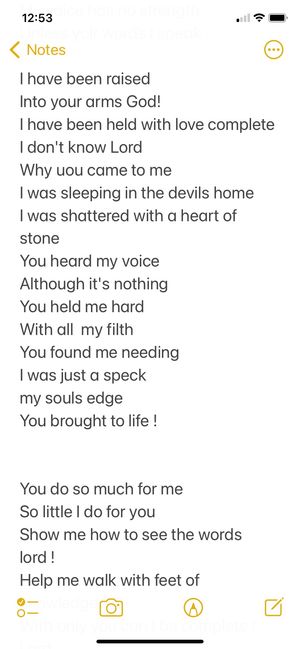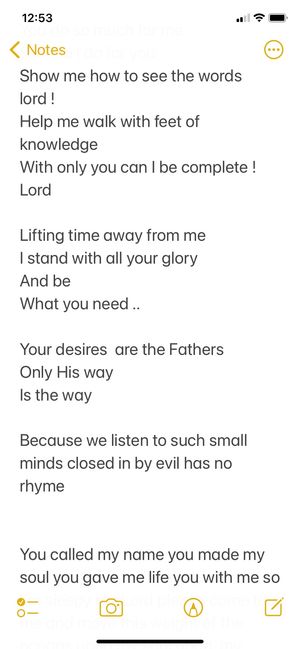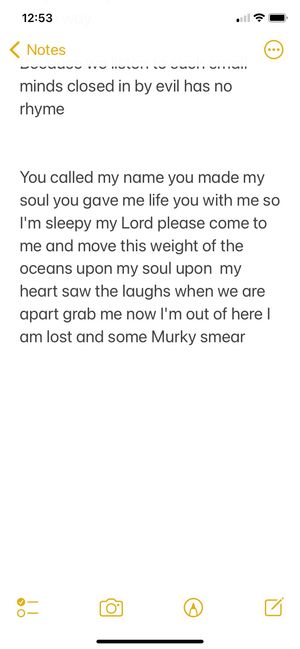 ________________________________
 
Mitch Bensel ~
Commentary of God's Poem 

I'm reading but there's no words
You're not with God. You are in life but not with God so you do not see His connection with us or 'words'.
I'm walking but I have no feet
We are living life without awareness of Him.  We're  not on the path with Him, still in the world, in humanity.  We can't see what He wants of us without God in our thoughts or day. The reading and walking that's going on is that we're not seeing what you need to see. Not seeing God in our life or walking as He would walk. Loving God above all else and loving neighbor as self. There's no substance. 
This is the beginning of realizing we're missing something in life. We realize we are missing something and that's when you need to reach for God.

Your love, God, Is what I need
I hear, but I have no ears.
We feel life, routine going about our day but not aware of His love for we are not thinking or bringing Him into our life daily. To feel God's love we must first reach, talk to Him.
We hear but have no ears, we have not reached from our soul, with our spirit to hear Him. We hear on the physical plane of the soul, Our humanity, our life, our emotions, being alive we hear. Spiritually we do not.
My soul is where you're sleeping. your love is my spirit singing 
This speaks of the start of our spirit, being brought to life by God. His love, which is His Spirit in us. It is 'singing' to reach Him. When we are created, God created our soul. What He is saying here, I feel, is God gave us a soul and He is part always of us, sleeping. The Spirit is what grows to communicate or act as the channel or way to feel God. While the soul is the source of our expression through our humanity, it has its limitations and the only way we can experience God is through our spirit. The soul is merely a channel. And here He is with us, sleeping, waiting. But our spirit is singing now, reaching for, talking to God.
 We can never express God's love for us through our soul alone. We then need the spirit to express God's love We have a new awareness of God. The Spirit. So, now seeing and realizing His love is with us, the spirit is awakening and singing in awareness of God. Love for God from us, comes from the Spirit. These two lines, My Soul is where you're sleeping, your love is my spirit singing is very clearly talking of Spirituality and leaving the world, flesh and walking in Spirit, which is in His image/ and becoming spiritual, which is communicating with . We give glory with the humanness of us and we communicate and become more Spiritual/ talking and to Him. I am repeating myself here forgive. It is a difficult concept to understand, for me it was. 
taken from the net this helps explain this very small line of words into it's complicated meaning but oh so beautiful meaning.
Hebrews 4:12 says:
"For the word of God is living and operative and sharper than any two-edged sword, and piercing even to the dividing of soul and spirit and of joints and marrow, and able to discern the thoughts and intentions of the heart."
The joints and marrow in our physical body are closely related, but they're distinct and can be separated. In the same way, our soul and our spirit can be divided by the Word of God, showing that they're also distinct from each other.  
I'm alone yet full of life
Here we have a person who has discovered God is with him and is aware of God. 
God is full of life. God is life. So, even though alone, without people full of life with God's love and awareness of Him.
Together with only your whisper
Can I read with eyes that see
 Seems to me that this is part of Matthew 13:15-16, with 16 saying, "but blessed are your eyes for they see and your ears for they hear."  We now feel God as your spirit is singing with Him and feeling his presence. But now we feel His presence and our spirit is singing/ communicating with Him. Now we see. Born again with God beside and within.
Can I walk with your lift of me
God has reached to you and you see because you called on Him. You can only see truth of your path and life with God.
We are lifting up away from that barren existence before God. We literally feel lifted, so it is a lift away from nothing to bring us to everything. There is nothing in life but life when God is absent. The path can now be walked with this awareness and blessing.
My voice has no strength
Unless your words I speak ..
That is a very profound thing Jesus said right there.
We all speak how God will speak. What are words or communications if they don't have the word of God in them, or how He would speak? They are weak and there is nothing there. When we speak as if children, if we do not speak as the Lord would speak with love and kindness, comfort… then our words will fall to the ground, no strength.  
Those are our voices. Anything we say in life, unless it is aligned with love and God, has no strength. Falls away to nothing for it is nothing nor will help others grow and ourselves grow in and with His love.  This is where we let God see our actions or words.  If we speak with God in our soul, what will come out is love. It will come out as kindness. Any prayers we ask, if we do not ask with love or with how the Lord would speak, they will not be heard/. no strength/. Because our voice is weak unless spoken the Lord's way, which is kindness, comfort, compassion and laughter and with Him in our actions and minds always. 
It's so obvious. It's so simple but so profound.  Because this is how we ask for things.  We open our mouth and say words. We speak. But without speaking the way of the "Lord speak," it is not heard anywhere in the heavens. You speak how God would speak and act how God would act.  That's just love.
I have been raised
Into your arms, God!
I have been held with love complete.
That speaks for itself.  You've reached for God through your spirit. He wraps you up with love and gives you that indescribable peace. All the worries of life fall away.  Can you see the importance of love in showing and growing here where you live?

I  don't know Lord
Why you came to me
Whenever you are in the presence of, or feel the peace of God which just happened when we were held, when you feel the peace of the Lord you also feel how unworthy you are. You think of all the sins you've committed. You feel dirty in front of him. So with that feeling of unworthiness, you wonder how he could come to you. How could he reach for such filth? Because when you find God, you see the darkest dirt path you walked and feel unworthy for him to even be holding you.

I was sleeping in the devils home
You feel unworthy because now you know what love is and what God is. You are aware of the beauty of God and His love. You see the contrast and the beauty of his love and the filth and evil in which you have been living. Even if it was a simple life but God wasn't included that is not with God, hence in the devils home.
I was shattered with a heart of stone
When in the presence of God, He lets you feel Him. You are aware of how cold, stark and empty life was before he held you. You had a heart cold like stone. No love, no compassion, no light. You were shattered with all the pain of life. It's a shattered life as God didn't exist there.
The stone represents no love. It's just earthly pleasures and sinning. It's sin when you are in the cold place and you have no God in your day. When all of your actions are sins against God, that is the cold stone. An empty place. One lives without God. 

Every sin is from evil. Every sinful act is the opposite of love.
That is where I was before God reached me. Imagine that you have a friend who is always yelling, hurting others, telling lies about them and others, causing harm everywhere they go. Imagine they're in front of you. They are spewing obscenities   at you. They are angry over nothing. Anger is where they like to live. You walk up to them and hold them in your arms.  You hold them and tell them everything will be okay. That moment, that compassion, that love you showed them - you were lifting them away from that anger. You chose love and the peace of love. That is what God does and does to us when he holds us when you were in the home of the devil with all of  our doubts and vile spewing everywhere. He held us and lifted us with his love. That is what we don't know. Why He came to us. We were  the total opposite of God. By His grace and love, He still reaches to hold us. To love us.

You heard my voice
Although it's nothing
You held me hard
With all my filth
You found me needing
I was just a speck
There was just a little bit of His life left in us. God's original gift of being born in His image, our souls, had just a speck of Him left in our body. On the very edge of your soul.

But God can make that speck illuminate, which is our spirit and bring us back to life. Reaching back to God brought his life to us. It made that speck brighter.  A person told me, "Your light is almost gone. I barely see any light of God in you. Just on the edge of your soul." What I was doing, which was against God didn't feel bad. It was a floaty feel. But, it was evil. Without the word of God in our lives in our spirits we fall easily to the false and sin with evil. Why? We do not see it as evil we are blind in our filth as we turn away from God. The further we sin the further we turn away and extinguish our light. And when that happens my friend, God cannot see us.
The bad thing about small sins is that it gives evil a foothold in your soul. That foothold leads us more astray and away from God.
We have freewill. Something we think is small gives the opening for evil to get in your soul and work it. We're oblivious to it. We say, "Lord, I called your name." They are oblivious to the evil. We have to be aware of the fruit of the tree and see we are not walking or doing what we know the Lord says.
Your souls edge
We are born in His image which is our soul. We can have a dark soul. Dark is bad. Light is God. So the speck ... not only can one almost lose God completely, there can be  just a little bit of light on the edge of your soul that was God's light within you. But that piece was enough for Him to hear you reach for Him. And it illuminates your spirit. God bringing something to life is Him illuminating everything. He brought our souls back to life and illuminated them with spirit.  It's wasn't just a speck anymore.
You brought to life! 
You do so much for me
So little I do for you
You are being blessed with His presence and His love. At this point in the writing, the soul person,  is just coming up to par. It's the beginning, realizing how much God is reaching to us when you've done nothing.  This is God illuminating your spirit when all you did was barely whisper for help.

At the beginning of this writing, we are  lost and realizes we are lost. So we begin to realize we don't have God and something is missing in life. God will always help us and awaken allowing us to know we are doing wrong. Either we will feel it or see it or a friend will let us know. But He always nudges or sends help. We have free will to listen or not. As soon as we barely think about God, we start with barely reaching for God and there is illumination, a feeling while our spirit grows. So, He holds us and lifts us away from the lack of existence to Him. The only thing that was done was a thought about God, then the journey into a life of spirituality and love with God begins again.
We do so little for him.
We said, "God, wait a minute. There is more to life."
God illuminates our soul when we barely reach for Him. We stopped talking  with anyone about God. We didn't speak His word. WE didn't say anything to God or even try to act or be as if He would be in our actions or thoughts.

Humans do so little for God. Our actions are not for God. You know yourself that you don't act for God. It doesn't take much to ask God for help and He gives you all of the peace and love.
 
Show me how to see the words, Lord!
Now we are praying to God. Before we were barely reaching for him. Now we are praying to him.  "Help me see what you want me to do lord, help my spirit know you."
Help me walk with feet of knowledge
It takes more prayer of wanting to learn what God wants us to do. We ask him to give us the knowledge about how to live in His world. We ask for help to walk our path the way He wants us to walk it.
With only you can I be complete!
Lord
This is a total realization that one cannot feel whole unless with God. He emphasizes your spirit in such beauty and peace and awareness and calmness that you cannot be complete without him.

Lifting time away from me
I stand with all your glory
And be
What you need ..
 This is about giving your life to God. Lifting time away is earth's life. In heaven there is no time. You're moving yourself from the earth ways to now live in God's world.

So this is where we are giving faith that our life and future will be guided by God and do what He wants. Not many ways, but God's ways. We are fully willing to move someplace to do to speak … what God needs spoken.

Your desires are the Fathers
Only His way
Is the way
This speaks volumes and is what is written in the bible. This is what Jesus has spoken all along. His fathers' will. What God the Father wants is what will happen and only through Jesus. Even Jesus states, "My fathers' will." What my father wants.  That's pretty plain. God is the final word. So we read and live through Jesus for the Father.
Because we listen to such small minds closed in by evil has no rhyme no rhyme
Without God's help, we fall into the confusing speak of the devil. He lies. He twists thoughts. Without God, we're very gullible and easily fooled into feeling we are doing the right thing. When 'the world' is more involved in our daily thoughts and actions, I.E/ succeeding, money, lying, stealing doing anything to have more things, we lose God and our way.
Just being aware of discernment is important when people speak of God and pleasures and of what's right and wrong. When God's word is not involved in the "speak," it is confusing and makes no sense.

You called my name. You made my soul. You gave me life you.
This is the beginning before birth, before putting all of us to earth. He gives us life. 
The soul is like a pause. So here is where God called our name. Before birth He gave us life. He created our soul. So now we are tighter. We are one with god. You with me. So then is recognition. We can say, "I know you made me God, my whole existence is you."

I'm sleepy, my Lord, please come to me and remove this weight of the oceans upon my soul, upon my heart.
Here we are. God doesn't feel close, even though we know God is there in our soul. It feels very quiet in our life with worries very loud. All the regrets we've had, sins on us, feeling unworthy again. So we cry out, "Help remove all this."
 
This is an awareness of how evil wants us. Evil laughs when we fail, when we are apart from God. We are aware of how evil rejoices when we descend. They laugh at me and they laugh at God. So this is a reach once more for God to help us even though we are fully aware He is with us.  This is the bad guy causing doubt. God isn't around, and we get down and pray and reach for God believing these doubts. We have the awareness of how our sinning hurts God by hearing evil laugh at our lord.

Sin will feel as a personal thing. We are moving away from God. "I'ts just me and I'm losing God."  Because evil is laughing at and mocking God. Because we failed. The times come again and we feel an ocean of pressure and worry and pain with fear. And we cry out for Him again. 

Grab me now. I'm out of here. I am lost and some Murky smear
This is back to the beginning of this writing and feeling like we're in the dirt. The unworthy is all coming back. The feeling of that unworthiness. So grab me now. Is begging God to reach in and hold. Even though He already is with us, for He lifted us from the devils home.  This guilt is brought on from the whispers of the bad guy, the devil. Everyone can relate to this.
No matter how close you are to God, no matter how enlightened you are, no matter how many spiritual gifts you have, the devil will pound on you to make you feel less and push you back to where you feel God is not with you. The ending prayer of this writing, as we reach is from the depths of our soul, we are reaching for God. God will be there and God will pull you right back up. Always.

From our perspective, he is pulling us right back up. But he never left us. And we never left him. As soon as anxiety, fear, depression, and doubt find us, turn to God. That is what is happening at the end of this writing. Because life is hard. The closer you get to Him, the more difficulty you have in life. When you become enlightened, it becomes your faith. Reach for God in all things. God never leaves us.  We leave Him.
It's what happens when we are walking our paths in our life with God. Refer to faith and doubt. A  person that is not on the level of knowing to reach for Him, will just go on to worry. With enlightenment and faith, we turn it over to God. We don't worry. To reach for God you have to practice what you preach. When you get down in a hole, pray to God. Reach to God for help instead of yelling at your neighbor. Reach to God.
It comes around full circle. We start getting tired and hurting and needing help. Why does that happen? Your father's the only way.
I don't care who you are, or how close to God you are, you have worry. You have to give the worry to God and let Him take it away.
Even Jesus had doubt about his path. When that moment hits, just talk with God.
I think we go through levels. We're lost. We reach for God. We find him. We feel him. We're given the awareness that he created us before time. The next thing is about to happen. Even with all this awareness, we say, "Help me."